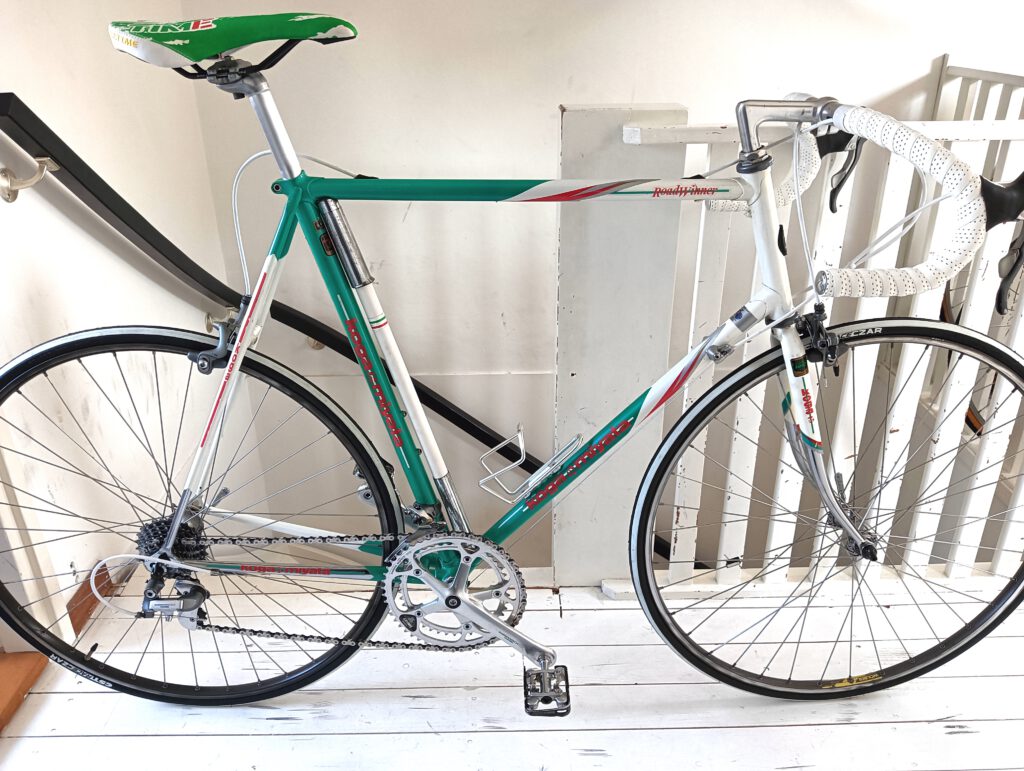 – Framesize/Rahmenhöhe/ framemaat: 63 cm
– Frame/ Rahmen:FM1 light steel by Miyata double butted Molybdeen
– Framenumber/ Rahmennummer: QS…
– Fork/ Gabel/ voorvork: HM high Manga light steel by Miyata half chrome/ halb verchromt
– Year/ Baujahr/ bouwjaar: 1990
– Gears/Gangschaltung/versnellingen: 16 speed Shimano 600 Tricolore
– Brake handles/ Bremsgriffe: 16 ST-6400 combi shifter speed Shimano 600 Tricolore
– Shifters/ Schalthebel: 16 ST-6400 combi shifter speed Shimano 600 Tricolore
– Headset/ Kopflager/ balhoofdset: original Shimano 600 tricolore
– Stem/ Vorderbau/stuurpen: Cinelli
– Handlebar/ Lenker/ stuur: Cinelli Criterium
– Cranckset/ Kurbelsatz/ cranckstel: Shimano 600 Tricolore with bio-space blades
– Bottom Bracket/ Tretlager/ trapas: Neco cassette 115 mm (new)
– Rear sprocket/ Zahnradcasette: original Shimano 8 speed (new)
– Saddle/Sattel/Zadel: Alltime Sport (new)
– Sattelstütze: Shimano 26.4 mm
– Derailleurs/ Schaltwerke: Shimano 600 Tricolore
– Wheels/Felgen/velgen: Aluminium GTX with Shimano 105 tricolore hubs (Naben)
– Tires/Mäntel/buitenbanden: CST Race 23-622 (new)
– Chain/Fahrradkette/fietsketting: Lynx 1/2 x 3/32 6/7/8 speed (new)
– Tubes/Schläuche/binnenbanden: ContinentalRace 23/25-700C (new)
– Rear ends/Ausfallenden: chrome/ verchromt
Condition: The bike is in a unique original and beautiful original condition. Signs of wear commensurate with age, but not worth mentioning. All wear parts like brake and gear cables, brake pads, rear sprocket, handlebar tape, chain, bottom bracket tires & tubes are replaced for new parts.
Zustand: Das Fahrrad ist in einem einzigartigen und wunderschönen Originalzustand. Gebrauchsspuren dem Alter entsprechend, jedoch kaum vorhanden. Alle Verschleißteile wie Brems- und Schaltzüge, Bremsbeläge, Tretlager, Lenkerband, Pedale, Sattel, Kette, Mäntel & Schläuche wurden gegen Neuteile ausgetauscht gegen Neuteile.
SOLD