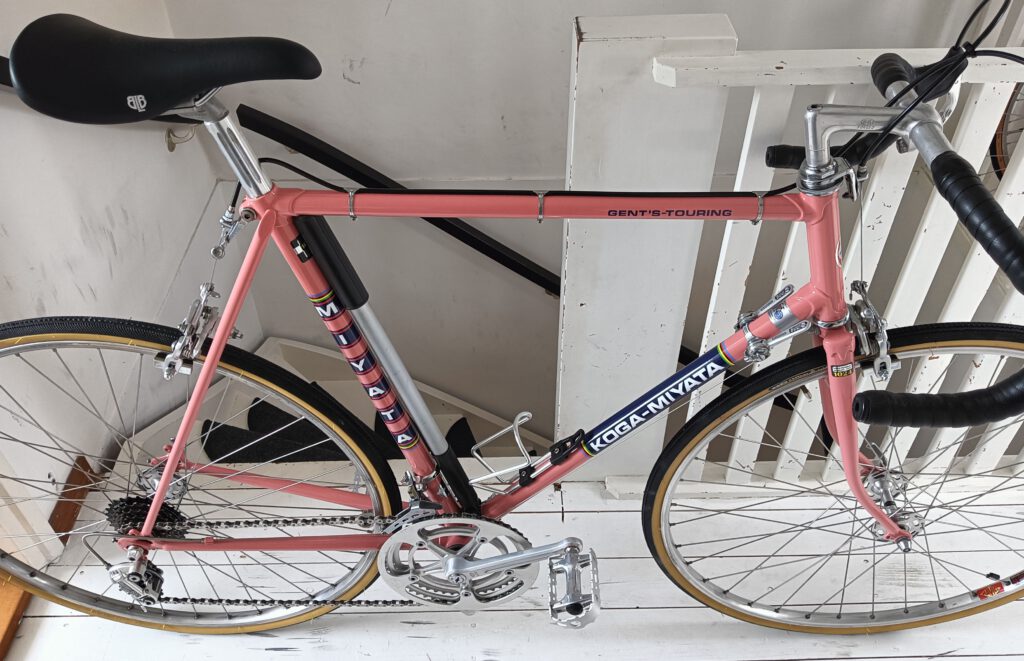 – Frame/ Rahmen: Koga Miyata 1024 double butted Molybdeen  
– Framesize/Rahmenhöhe/ framemaat: 61,5 cm
– Framenumber/ Rahmennummer: G….
– Fork/ Gabel/ voorvork: HM high Manga light steel
– Year/ Baujahr/ bouwjaar: 1978
– Gears/Gangschaltung/versnellingen: 12 speed Shimano 600 Arabesque
– Shifters/ Schalthebel: Shimano Shimano 600
– Headset/ Kopflager/ balhoofdset: original Shimano chrome (new old stock)
– Stem/ Vorderbau/stuurpen : Shimano SR  
– Handlebar/ Lenker/ stuur: Sakae Japan original (new taped)
– Cranckset/ Kurbelsatz/ cranckstel: Shimano SR (new old stock)
– Bottom Bracket/ Tretlager/ trapas: cassette 127 mm (new)
– Rear sprocket Zahnradcasette: original (new)
– Chain/Kette/ketting: 1/2″ X 3/32 116L ( new)
– Brake handles/ Bremsgriffe: Shimano (new old stock)
– Caliper/Bremssattel/remklauwen: Shimano 500
– Saddle/Sattel/Zadel: Jaguar BLB England black leather (new)
– Seatpost/Sattelstütze/zadelpen: Laprade
– Derailleurs/ Schaltwerke: rear  & front Shimano 600
– Wheels/Felgen/velgen: Mavic for Koga Miyata 27 X 1.1/4 (like new)
– Tires/ Mäntel: CST City Tires 27 X 1 .1/4 vintage look (new)
– Tubes/ Schläuche: CST City ace 27 inch (20/25-622) (new)
– Pedals/Pedale/pedalen: MKS black  & Alu (new)
– Original air pump/ originale Luftpumpe

Price: 495 – €
Condition: Completely restored and equipped with new parts. The bike is in a mint /like new condition. No signs of wear. The frame is powder coated & labeled with original decals of the seventies model Koga. All wear parts like brake and gear cables, brake pads, tubes, chain, sprocket, chain blades & handlebar tape are replaced for new parts. All Shimano 600 are mainly old stock parts.
Zustand: Komplett restauriert und versehen mit Neuteilen. Das Fahrrad ist wie ein neues Fahrrad aus dem siebziger Jahre, Alle Verschleißteile wurden von mir erneuert und mit Neuteilen versehen. Es sieht echt aus wie neu. Der Rahmen wurde pulverbeschichtet und mit neuen Koga Miyata Aufklebern ausgestattet, danach mit Klarlack überzogen. Die Shimano Anbauteile sind fast alle neu, genau wie die originalen Mavic for Miyata Felgen mit den Shimano Naben. Alle Anbauteile wurden mit Kupferfett montiert, damit man das Fahrrad auch in 20 Jahren noch demontieren kann.