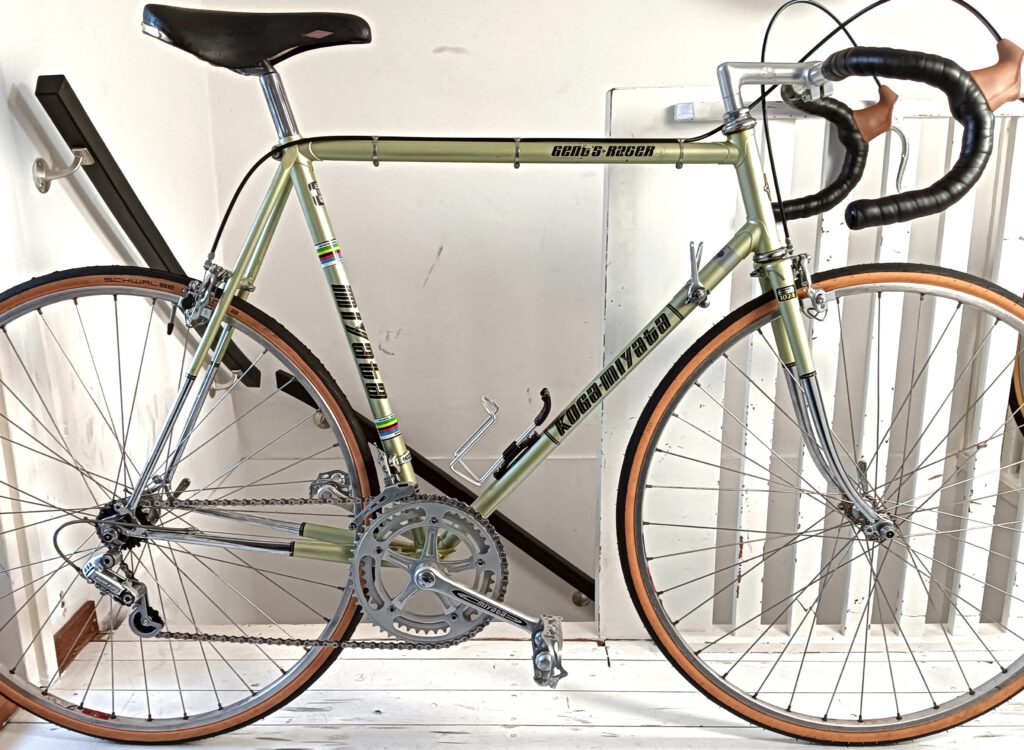 – Frame/ Rahmen: Champion HM2 light steel double butted Molybdeen, chrome rear ends
– Framesize/Rahmenhöhe/ framemaat: 59 cm
– Framenumber/ Rahmennummer: G…..
– Fork/ Gabel/ voorvork: HM2 light steel half chrome
– Year/ Baujahr/ bouwjaar: 1979
– Shifters/ Schalthebel: Shimano Shimano 600
– Headset/ Kopflager/ balhoofdset: original Tange Shimano Chrome
– Stem/ Vorderbau/stuurpen : Shimano SR 100 mm
– Handlebar/ Lenker/ stuur: Sakae Japan Champion
– Handlebar tape/ Lenkerband: Velox Guidoline (new)
– Cranckset/ Kurbelsatz/ cranckstel: Shimano Miyata
– Chain/ Fahrradkette: Lynx ketting 1/2 x 3/32 6/7/8 speed 110 (new)
– Bottom Bracket/ Tretlager/ trapas: NECO 125 mm (new)
– Rear cassette/ Zahnradcasette: 6 speed – original Shimano
– Brake handles/ Bremsgriffe: Shimano 600 arabesque
– Saddle/Sattel/Zadel: Selle Royal Rolls vintage leather
– Derailleurs/ Schaltwerke: rear & front Shimano 600
– Wheels/Felgen/velgen: Aluminium Mavic (original)
– Tires/Mäntel: Schwalbe Lugano Classic 25-622 (new)
– Inner tubes/Schläuche: Continental (new)
Condition: The bike is in a technical very good and beautiful condition. All parts tires, inner tubes, brake and gear cables, handlebar tape, saddle, chain, rear sprocket, bottom bracket, and brake discs have been replaced by new parts. All parts are mounted with copper grease, so that everything can be easily dismantled even in 20 years.
Zustand: Das Fahrrad ist in einem technisch sehr schönen Originalzustand. Gebrauchsspuren wirklich kaum vorhanden. passt aber irgendwie zum Fahrrad. Alle Verschleißteile wie Reifen, Schläuche, Brems- und Schaltkabel, Lenkerband, Sattel, Kette, Kettenräder, Tretlager und Bremsklötze und Ritzel wurden durch Neuteile ersetzt. Alle Anbauteile wurden mit Kupferfett montiert, damit man das Fahrrad auch in 20 Jahren noch demontieren kann.
375,- €