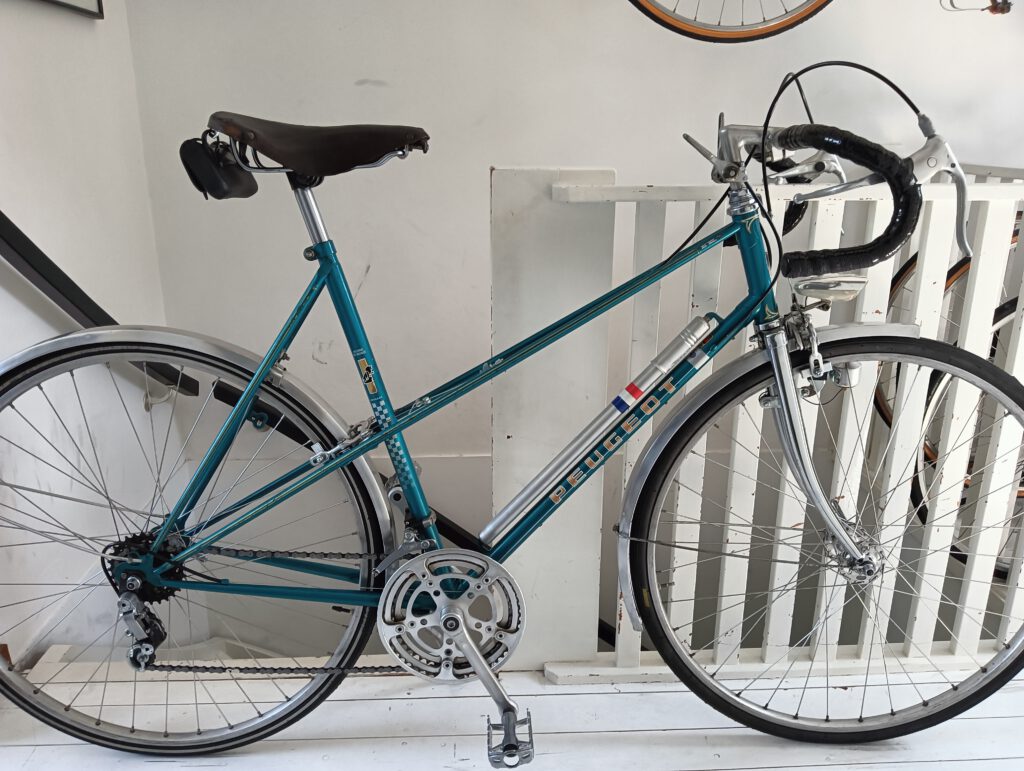 – Frame/ Rahmen: Light steel Mixte frame
– Framesize/Rahmenhöhe/ framemaat: 57 cm
– Fork/ Gabel/ voorvork: Light steel by Peugeot full chrome
– Year/ Baujahr/ bouwjaar: 1977
– Gears/Gangschaltung/versnellingen: 10 speed Simplex
– Shifters/ Schalthebel: Simplex
– Headset/ Kopflager/ balhoofdset: Neco 1 inch chrome (new)
– Handlebar/ Lenker/ stuur: Sakae Japan original (new taped)
– Cranckset/ Kurbelsatz/ cranckstel: Peugeot
– Bottom Bracket/ Tretlager/ trapas: Peugeot original
– Rear sprocket Zahnradcasette: original Shimano 5 speed (new NOS)
– Chain/Kette/ketting: Lynx 1/2 x 3/32 5/6/7 – Brake handles/
– Bremsgriffe: Weinmann with pull up system
– Caliper/Bremssattel/remklauwen: Front: Shimano Tourney – rear: Mafac France
– Saddle/Sattel/Zadel: Brooks leather vintage look.
– Seatpost/Sattelstütze/zadelpen: chrome
– Derailleurs/ Schaltwerke: rear & front Simplex
– Wheels/Felgen/velgen: Wolber aluminium 27 inch with Shimano 600 hubs
– Tires/ Mäntel: Deli 32-630/ 27 X 1 ¼ (new)
– Tubes/ Schläuche: Continental ace 28 inch (20/25-622)
– Pedals/Pedale/pedalen: Vintage race – Alu (new)
– Original pump/ originale Luftpumpe
Condition: The bike is in a unique, near mint and original condition. Signs of wear commensurate with age, but not worth mentioning. All wear parts like brake and gear cables, brake pads, tubes, tires, headset, chain & handlebar tape are replaced for new parts.
Zustand: Das Fahrrad ist in einem einzigartigen und wunderschönen Originalzustand. Gebrauchsspuren dem Alter entsprechend, jedoch nicht wirklich erwähnenswert. Alle Verschleißteile wie Brems- und Schaltzüge, Bremsbeläge, Schläuche & Reifen, Kette, Lenkerband, Kopflager und Kette wurden gegen Neuteile ausgetauscht.
Price: 295,- €