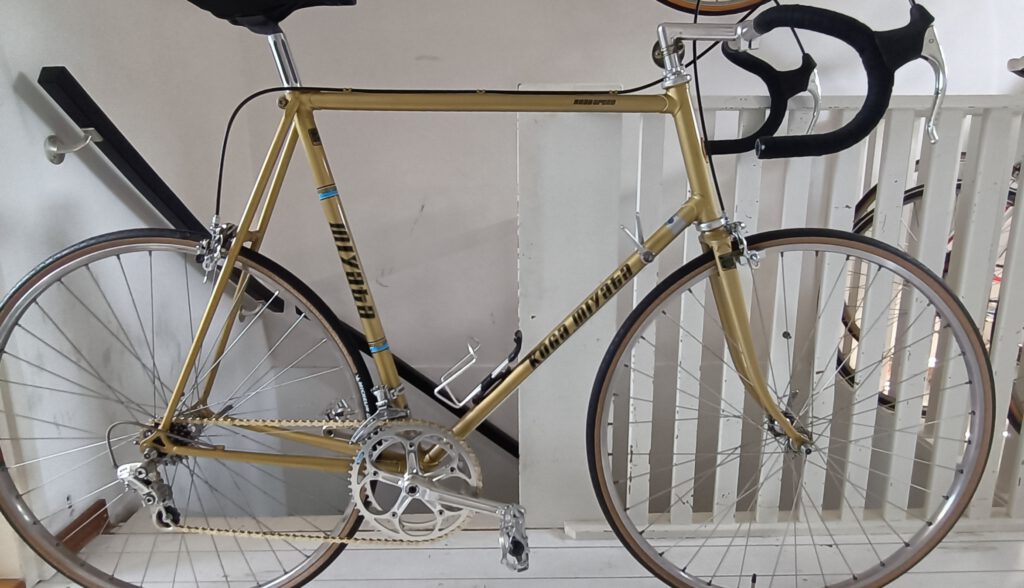 – Frame/ Rahmen: Miyata High Manga HM2 light steel double butted Molybdeen
– Framesize/Rahmenhöhe/ framemaat: 63 cm
– Framenumber/ Rahmennummer: I…..
– Fork/ Gabel/ voorvork: HM high Manga light steel by Miyata / half chrome
– Year/ Baujahr/ bouwjaar: 1981
– Shifters/ Schalthebel: Shimano 600 Arabesque
– Headset/ Kopflager/ balhoofdset: Shimano 600 Arabesque
– Stem/ Vorderbau/stuurpen : Shimano SR 120 mm
– Handlebar/ Lenker/ stuur: Sakae Japan Champion
– Handlebar tape/ Lenkerband: Black linen handle bar tape (new)
– Cranckset/ Kurbelsatz/ cranckstel: Shimano 600 Arabesque
– Bottom Bracket/ Tretlager/ trapas: Shimano Neco cassette (still have the original)
– Rear cassette/ Zahnradcasette: original Shimano 6 speed
– Brake handles/ Bremsgriffe: Shimano 600 Arabesque
– Saddle/Sattel/Zadel: Vintage black (new)
– Derailleurs/ Schaltwerke: rear & front Shimano 600 Arabesque
– Wheels/Felgen/velgen: Aluminium Wolber
– Tires/Mäntel: Michelin Dynamic Classic 25-622 (new)
– Inner tubes/Schläuche: Continental (new)
Condition: The bike is in a beautiful & original condition. Everyone will see that this bike has been rarely driven. All parts like tires, inner tubes, brake discs, chain, brake and gear cables and the bottom bracket have been replaced by new parts, mounted with cupper grease, so you will be able in ten years from now to replace parts again without corrosion problems.
Zustand: Das Fahrrad befindet sich in einem absoluten schönen und originalen Zustand. Jeder wird sehen, dass darauf kaum gefahren wurde. Sämtliche Teile wie Reifen, Schläuche, Bremsscheiben, Kette, Zahnräder, Sattel, Tretlager, Brems- und Schaltzüge wurden durch Neuteile ersetzt. Alle Anbauteile wurden mit Kupferfett montiert, damit man das Fahrrad auch in 20 Jahren noch einfach demontieren kann.
SOLD